Santa Claus has been making a list…and checking it twice…and has found out that everyone here at Czech translations has been very nice this year. We've been doing all we can to make sure our client's get exactly what they need, and hearing all of their positive feedback has made all of our hard work so worth it. We've had a really successful 2016, and we'd like to thank you all from the bottom of our hearts for making that happen.
It looks like all of that positive feedback found its way to Santa, as he suprised us with an amazing early Xmas present a couple of weeks ago. This awesome gift came in the form of a video about us for our website so you can meet our team and see what goes on behind the scenes here at Czech translations.
We also had a brilliant time at our early Christmas party, and are looking forward to round two on Friday with our Olomouc branch! It was great to let our hair down and talk about other things apart from languages with our translators (well…kind of!). All of you who either are or know a translator will know that we can't keep away from languages for too long, which is why finding mistakes in the restaurant menu quickly turned into writing our latest blog post about interpreting for Donald Trump!!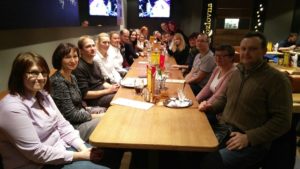 And last but not least…it looks like the sack full of presents for our clients was too heavy for Santa to carry at Christmas, so he dropped it off early. In case you can't wait here's a sneak peek of what our elves are busy delivering to you as we speak 🙂
A big Chrismassy hello and enjoy your well-deserved Xmas break,
from everyone here at Czech translations 🙂
---
---
Comment this post